by Frank Schroth
Traffic Commission to perform one-way test on West end of Eliot St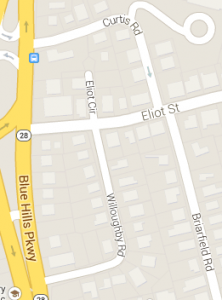 At last week's meeting of the traffic commission DPW director Joseph Lynch and John Thompson were joined by an employee from the Beta Group to review changes to the intersection of Eliot Street and Blue Hill Parkway. That intersection is part of the larger interchange that is something of a rat's nest of roads – where Blue Hill Ave, River Street, Rt 138, Rt 28, in addition to Blue Hill Parkway all converge. There are efforts underway to improve the traffic flow and to also accommodate the Neponset bike trail. The trail will eventually go from Central Ave to Mattapan Square and connect with the bike lane up Truman Parkway. 
The proposal includes additional signalization and timing changes. Included in this plan is changing Eliot Street to become one way where it intersects Blue Hill Parkway and enabling two lanes to turn right onto the parkway. This is viewed as necessary to prevent cars from queuing up on Eliot as a result of other signal changes. Chief Wells expressed concern that as a result cars unable to turn into Eliot from Blue Hill Parkway would spill onto other side streets, principally Willoughby and Curtis and have an adverse impact on those neighborhoods. The commission agreed to have a test in September that would test that impact.
Milton's Dutch Rebelle is being heard Loud & Clear
I received a text message from my daughter the other night tipping me off to a MHS classmate of hers who was featured in the Improper Bostonian. Dutch ReBelle, a Milton native, leads the list of top ten local acts "making noise".  It's great to see young talent from Milton break out. You can find a list of Ms. ReBelle's music videos here.
It was recently reported that the restaurant chain Not Your Average Joe's was coming to Milton. Understandably a lot of people got excited. Unfortunately, it is not a restaurant that is coming but their corporate headquarters. And we did confirm that the site they are looking at is the Flatley owned building on Granite Avenue which once hosted State Street Bank offices.
Lastly, in a follow up to the incident on Eliot Street in which some disgruntled union employees hassled members of a production crew working on the filming of a Top Chef episode at Steel & Rye — there have been no arrests. Some cars had their tires slashed; but Deputy Chief John King reports that they have not identified or charged anyone yet.