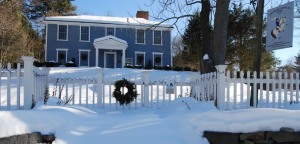 The Milton Historical Society invites everyone to attend the annual HOLIDAY OPEN HOUSE being held Sunday, December 8, 2013 from 1:00 to 3:00 PM at the historic Suffolk Resolves House, 1370 Canton Avenue, Milton. The house will be festively decorated for the holiday season.
Bring the family — meet old friends and meet the new curators Rebecca and Amram Migdal.
Light refreshments will be served.
To learn more about the Milton Historical Society, check our website: Miltonhistoricalsociety.org.