The 3RD Annual Victorian Egg Hunt will take place on the grounds of the Forbes House Museum on Saturday, 23 March at 1pm. Children ages 3- 8 are welcome. Hundreds of eggs will be hidden on the east and west lawns of the Museum. Each child will receive a handle basket to gather eggs (the handle basket will contain gifts before the hunt begins). Colorful eggs will each contain a toy surprise.
The Hunt will have one start time beginning promptly at 1pm. Prizes will be given to the best egg hunters. Snacks and refreshments will be served.
At 2pm, the Boston Public Library Lower Mills Branch will sponsor a story hour on the Forbes House porch. Angela Bonds, Children's Librarian, will read a selection of children's favorite spring time stories.
The Victorian Egg Hunt is sponsored by Petrik and Associates Ameriprise Financial Advisors and R. H. Pike Insurance of Milton, Pro Forma Printing and Promotion of Milton/Walpole, The Ice Creamsmith of Lower Mills, Dorchester and the Boston Public Library Lower Mills Branch.
Admission is $6 per child or two for $10. Rain date is Sunday, 24 March at 1pm.
The FHM wishes to accommodate children with challenges. If your child has a disability, and she/he plans to participate in the Victorian Egg Hunt, please call the Museum before Thursday, 21 March to inform our staff.
For more information on FHM programs, workshops, events and group tours, visit our website at www.forbeshousemuseum.org, or contact the Museum at 617-696-1815. E-mail us at info@forbeshousemuseum.org.
For more information on the Boston Public Library Lower Mills Branch call 617- 298- 7841 or visit their website at http://www.bpl.org/branches/lower.htm.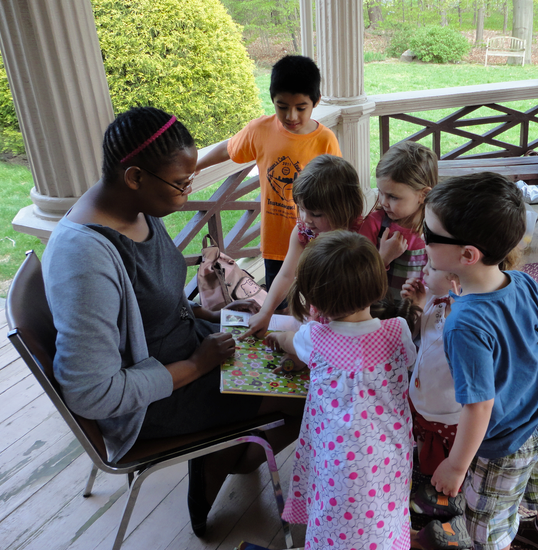 About Angela Bonds:
Angela P. Bonds joined the staff at the Boston Public Library Lower Mills Branch in October 2011. She previously worked at the Norman B. Leventhal Map Center at the Boston Public Library. Ms. Bonds earned a degree in Library Science degree from Simmons College in December of 2009. She has extensive experience working with the Library's special/research collection and working with the general public.