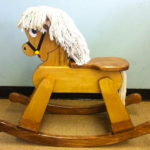 Would you like to surprise your child with this beautifully made Rocking Horse? This is a handmade treasure, surely made to last a lifetime from generation to generation. There are no sharp points, no nails – very safe for your child.
The Parks and Recreation Department is selling raffle tickets with the proceeds to benefit our Special Needs Recreation
Programs. Each ticket is $10. Please stop by our office in Town Hall to purchase a ticket. Monday-Thursday 8:15am-3:45pm (lunch 12:30-1:30) and Fridays 8:30-12:30pm
Drawing held: Annual Easter Egg Hunt, Cunningham Hall – March 23, 2013.
Note: You do not need to be present to win.