by Frank Schroth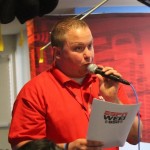 According to his mom, it wasn't long after Bill Neville learned to talk that he took to wandering around his home announcing Wheel of Fortune. One thing led to another and now some twenty years later Mr. Neville is one of 35 finalists vying to succeed Carl Beane as  the next voice of Fenway Park. 
Neville was one of 500 interested candidates that showed up at initial audition."It was like Fenway's American Idol," he said. He made a point of arriving early. "I was the 5th on in line."  He was handed a one page script,  given a little time to look it over and then did his thing.
"There is nothing like controlling a crowd with your voice", Neville explained. Neville, who attended UMass Boston's Management Program, works at Wollaston as Director of outside operations, is no stranger to public announcing. He currently does PA work at Stonehill College and Harvard University. He also does promotions for sports radio 93.7FM WEEI and ESPN-WEEI 850AM. "I am an everything sports guy."
With announcing Neville said he works to be simple and to the point. The goal is to "enhance [the fans] experience of attending a game."
The next round will whittle down the 35 and invite that group to Fort Myers. Neville is waiting to hear if he needs to get a ticket. He's pragmatic and grounded. "You have to at least try." Right now he is in it . Good luck Bill!