News release from Fontbonne Academy
Rebecca Olivieri of Milton is a junior at Fontbonne Academy and is what is called a "legacy" at Fontbonne, that is, her mother also attended the school. In addition to her mother, Alyse Zaccheo Olivieri, Rebecca's aunt, Laurie Zaccheo Laub, is also a graduate. As well, Rebecca's younger sister, Jessica, joined the ranks this year as a freshwoman.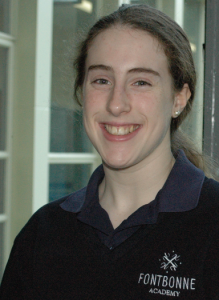 Rebecca herself is a refreshingly humble all-star athlete. On three varsity teams her first year at Fontbonne, as a junior she is now on the basketball and softball teams, and is captain this year of the softball team. She plays AAU basketball and plays softball on summer leagues as well. When asked why she dropped soccer she simply says, "I really wanted to play basketball all year."
She is quick to point out that she comes from a very athletic family. Her mother, who is a 7th grade math teacher in Quincy, played softball, basketball, and volleyball at Fontbonne, and continues to play on informal teams, most recently taking up ice hockey. Rebecca's younger sister plays goalie on the Varsity Ice Hockey team and will be trying out for the softball team in the spring.
Accolades don't stop at the court or the field, however. Rebecca recently was inducted into the prestigious National Honor Society. She is also a Peer Mentor Leader, a Peer Educator, and an Admissions Ambassador. Juggling a busy schedule does not appear to be a problem for this young lady.
At the end of each school year Fontbonne hosts an awards ceremony where student receive awards and scholarships. Rebecca was awarded the "Excellence" awards in Math, Spanish and English her first year. And last year, she was awarded "Excellence" in Chemistry and Theology. She excels in most disciplines, and is often in the top echelon of the honor roll, the much-sought-after Head of School List. When asked about this, she simply smiles in her humble way.
And if these awards and accomplishments seem tremendous, a significant award came her way last year, given to a student who most represents the values of Fontbonne. The Mary Beth Santry award is given in honor of a delightful student who was always behind the scenes and supporting her classmates and teammates. Receiving this award is like the "Best Movie" win in the Academy Awards. "I was really excited to receive it," beamed Rebecca.
With sights set on studying to become a physical therapist, there seems to be no stopping this scholar-athlete. "Fontbonne has given me so much, and I am loving every minute of the Fontbonne experience. Fontbonne has helped me develop into the person I am today and the person I will be tomorrow."