The following was submitted by the candidate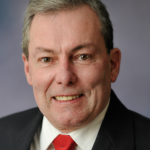 At a recent gathering of supporters, Bob Sweeney announced that he is a candidate for re-election as Selectman. Bob resides at 156 Whittier Road with his wife, Gert, and eight year old daughter, Christina, who is a second grader in the Milton Public Schools. He is a lifelong Milton resident who grew up in East Milton on Governors Road. Bob is a graduate of Saint Agatha's Grammar School and Milton High School. Sweeney earned a Bachelor's degree with a major in Government from Suffolk University and a Master's degree in Education from Antioch College. He was a teacher for thirty years in the Boston Public Schools.
Serving our Town's Government, being active in community affairs, and helping the youth of Milton has been a part of Sweeney's life for the past four decades. Bob was elected to four terms as a member of the Milton School Committee and is a former chairperson. For the past seventeen years Bob has been representing Precinct 9 as a Town Meeting Member. Previously, he had the privilege of being a Town Meeting Member in Precinct 6 for nineteen years. In recent years, Sweeney has served as Co-Chairman of the Governor Stoughton Trust Land Committee. A year ago he served as Chairman of the Board of Selectmen.
Bob is the longtime Director of the popular Learn to Skate Program which annually provides skating lessons at Ulin Rink to over 200 young Milton girls and boys. He is Vice-President of Milton Youth Hockey which his father, Dan Sweeney, helped found and then served as its first President. In the summer Bob works at Cunningham Park as the evening pool supervisor. He also is a past treasurer, director, and manager in the Milton Babe Ruth League. Last year he served as a coach in the Milton Girls Softball League. Currently, Sweeney helps out his immediate neighborhood as President of the Indian Cliffs Association.
Bob Sweeney has vital concerns about the present and future for all of Milton. In the years ahead, Selectpersons must take an increased responsibility for ensuring that the character of our town is preserved within a reasonable tax structure. Bob welcomes the opportunity to use his qualifications and experience to continue to serve the community and contribute to the success and direction of Milton town government. To help out in the campaign visit our website at www.sweeney4milton.com.
Bob Sweeney asks for the support of voters on Election Day, Tuesday, April 30th.