The following was submitted by the candidate.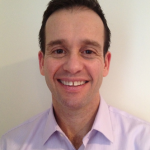 My wife Marianne and I live on Fairbanks Road with our two daughters – Melina, who is four years old and Alyssa, who is two. We moved to Milton nearly eight years ago because of all the wonderful things that this Town has to offer – great neighborhoods, a strong public school system, and a diverse community active in sports and the arts.
As our roots grew deeper, I sought opportunities to become more actively involved in helping the Town. My neighbor at the time, longtime Selectman Bill White, suggested that I volunteer for the Warrant Committee.
My time on the Warrant Committee, its Subcommittee on Schools, and the Capital Committee over the last few years gave me the opportunity learn about the Town's budgetary challenges, and to grapple with the difficult choices that needed to be made.
Now I seek to continue my civic involvement by running for one of the two available positions on the Milton School Committee.
I am driven by a desire to help ensure that the Milton Public Schools continue to excel and to improve and that our children have the opportunity to explore science, literature, and language, and to participate in athletics and the arts.
Our Town remains vibrant and continues to flourish because of the strength and reputation of our public schools. The public schools unify our community with activities and organizations such as the PTO's. Families stay in Milton and move to Milton because of our public school programs. That enhances the value for our property and improves our quality of life.
I am the product of a public school education and a graduate of Williams College and Vanderbilt Law School. Over the past 23 years, I have worked in the public sector as a prosecutor in the Attorney General's Office and in the private sector as a lawyer advising businesses.
While these past experiences may help inform the decisions that come before the School Committee, it is the parent's vision of high-performing public schools that would guide my service.
I look forward to the opportunity to earn your vote on April 30.
For more information, please email mikezullas@gmail.com.