Winslow Farm animal sanctuary welcomes Milton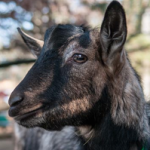 In mid-December 2012, Nancy Bersani, Animal Control Officer in Milton, MA, was called to the Department of Conservation and Recreation at Blue Hills to investigate the sighting of a small goat near the skating rink there. Upon arriving at the scene, Nancy found State Police working to keep the goat secured from the street until it could be captured. It took twenty minutes for the goat to be caught, as he would get closer to reach the chicken feed laid out for him, then skirt away again.
Nancy was able to get a bale of hay and some pellets from a local farm to make a place for the goat at the Milton shelter. The goat was examined and found to have an upper respiratory infection and running a high temperature. He was given treatment, including antibiotics, probotics, and worming medications. He was determined to be about six to ten months old. The goat, named Hamish MacGoat by Nancy's daughter, continued to improve. (Since moving to Winslow Farm, Hamish's name was changed to Milton.) Later, he was neutered at Tufts Large Animal Hospital in Grafton in January.
Nancy says this about Milton, "Everyone at the shelter was in love with Milton. He was leash walked daily and sought out the attention of people. At night he stayed in a dog kennel beside a Cane Corso whom he loved. He ate up a storm and gained weight. He is now fifty pounds and loves to give kisses."
Nancy and her daughter had visited Winslow Farm Animal Sanctuary several years ago. She recalls their first visit there and the feeling of peace they left with. They saw that all of the animals lived in harmony and were truly happy there. When Milton was rescued, she immediately thought of Winslow Farm as the place that Milton would be safe among other farm animals. She hesitated to call Winslow Farm, as she knows that the Sanctuary receives many requests to take animals. Many people expressed interest in Milton, and Nancy looked into other farm rescues as well, but didn't feel any of them were the best fit for this goat she had come to love. As it happened, Nancy was telling a friend about Milton, who also knew someone who volunteered at Winslow Farm and ultimately contacted Debra White, the Farm's owner. It seems that Milton was meant to live his life at Winslow Farm.
Debra White, President of Winslow Farm said, "Milton was one lucky goat, to have been found before he died from illness, starvation, or was killed by a predator. It is beyond my comprehension how humans can simply discard animals like trash to the streets."
Milton moved into his new home at Winslow Farm on January 13. He was quickly greeted by other rescued goats, and for certain, he will live a happy and peaceful life there.
Since Milton and all of the over 200 rescued animals at Winslow Farm will be able to live out their lives there, public support is crucial and donations towards the housing and care of their animals are truly appreciated.
Winslow Farm Animal Sanctuary is a nonprofit, stay-for-life sanctuary, established for the rescue and care of abused and abandoned animals and animal education. Winslow Farm is owned and operated by Debra White, President, and is home to over 200 animals including, sheep, goats, horses, llamas, alpacas, exotic birds, pigs and more. Visitors to Winslow Farm can enjoy a guided tour of the sanctuary, as well as its many amenities including, nature trail, full playground, campfire, perennial garden, hand-washing station and on-site eatery. Winslow Farm offers year round fundraising and educational events, those events can be found on their website at www.winslowfarm.com. All donations to Winslow Farm are tax-deductible.