News release from the Milton Public Schools
Thousands of students, staff and parents who have passed through the front office of Milton High School or the lobby of the Copeland Field House have noticed two beautiful trophy cases, displaying various athletic trophies earned by Milton High athletes.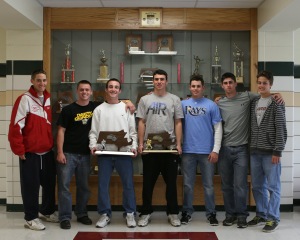 Fran McKinnon, mother of Marc Susi, is a tireless supporter of the Milton Public Schools, Milton High Student-Athletes and the Milton High Boosters. She supported the installation of the custom-built trophy cases by donating funds from the Marc A. Susi Scholarship Fund.
Together with funding from the Milton High School Boosters, the cases were installed in the past year at Milton High School. This year is the 20th anniversary of Marc Susi's death and his family has been raising money in his name for two decades.
It was fitting to take the first picture of the trophy case with members of the Milton High School Hockey Team that won the South Sectional Finals and played in the Boston Garden for the state finals.
The Marc A. Susi Scholarship Fund also supports the Milton Schools with grant funds and many student scholarships. The Milton Public Schools is appreciative of all the Susi family does for the community.