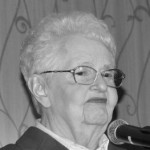 Last Monday night Dr. Anne Coghlan passed away at her home at Fuller Village. And a very bright light that had shone in Milton for a very long time went out. Dr. Coghlan had served as a Town Meeting Member for over 20 years, was the first woman chair of the Warrant Committee, served as the Chairman of the Board of Milton Hospital, President of the MFE, and Trustee of the Cunningham Foundation. She was the Dean of Sciences at the time she retired from Simmons College after working there for 35 years. Goghlan was in the words of Milton Superintendent Gormley "extraordinary."
Dr. Coghlan had a tremendous impact on a lot of people in ways large and small.
Dr. Coghlan was such a special person. She was a woman beyond her time with very high standards who never failed at anything she did. She worked so hard and accomplished so much. And she wanted to see you succeed. For everyone she met, she always had their best interests at heart.
– Deborah Felton, Executive Director Fuller Village
Dr. Coghlan supported, mentored and advised many Milton Public School administrators, but none admired and appreciated her guidance more than I have over the past years.

We, the residents of Milton have much to thank Dr. Ann Coghlan for and she will be forever remembered, appreciated and admired.
– Mary Gormley, Superintendent of Schools
I first met Anne Coughlin when I knocked on her door in 1993 to ask for her vote for Park Commissioner.  .  . I went home that night and told Mary that I had met the most extraordinary woman, a Dean of Simmons College .  .  .Through the years my admiration for this bright, ladylike and opinionated woman continued to grow.  .  . her keen intellect and candor contributed enormously to making Fuller Village a happy and successful community.  .  . She was a smart, strong, graceful and dignified woman who made Milton a better place. I was happy to have her in my life and I will miss her.
– Brian A. Joyce, State Senator
I cannot think of anyone who has done more for this town – who has been more of a leader in her quiet way than Anne Coghlan.
– Marvin Gordon, President, Fuller Village
Ann was a giant in our community! She had the vision and foresight to recognize what the future of education would be and to act on it in advance.  .  . As a School Committee member I had Ann's support and encouragement at every turn. She offered wise advice and guidance whenever we spoke.  .  .  I will miss her greatly. One thing is certain, however, – Milton is a far better place because of her commitment and contributions for the benefit of all of us.
– Beirne Lovely, General Counsel, Archdiocese of Boston
We were fortunate to meet Dr. Coghlan and interview her in 2011. She was being honored by the MFE. She spoke of growing up in Milton, her time at Simmons, and the importance of education. You can find the interview here.
A "celebration" of Dr. Coghlan will be held at Fuller Village (1372 Brush Hill Road Milton) on June 26th at 5:00PM. Contributions in Dr. Coghlan's name may be made to the Milton Foundation for Education, P.O. Box 223, Milton, MA 02186 or to the Anne Coghlan Fund for Student Research at Simmons College, c/o Development Office, 300 The Fenway, Boston, MA 02115.