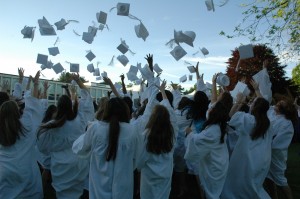 Fontbonne Academy's 55th Graduation was held on the Fontbonne lawn under a traditional white tent. Family and friends of the Class of 2012, along with the adult members of the Learning Community, the 50th Reunion Class of 1962, and the Board of Trustees gathered to celebrate the accomplishments of the senior class.
Student Council President, Natale Devine of Walpole welcomed those in attendance. Honors Speakers Caroline Murray and Kayla Stravin, both of Quincy, addressed their classmates.
Caroline emphasized the importance of believing in oneself, quoting spiritual author Robert Collier: "Your chances of success in any undertaking can always be measured by your belief in yourself." She emphasized the importance in having faith in yourself and in God, and challenged her classmates to use their gifts and self-confidence to become successful and change the world; Kayla likened life's lesson to the game of golf (she is on the Varsity Golf Team which is playing in the MIAA state tournament May 29). With golf lessons "practice makes perfect," "you will never know unless you try," and "choose the best tools" became life lessons in her speech.
After diplomas had been conferred by Head of School Mary Ellen Barnes, a representative of the Class of 1962, Joan Garrity, Ed.D., R.N. of Braintree, who has had a distinguished career in nursing and education, spoke to the graduates about the four Rs of respect, responsibility, reconciliation, and reverence that are instilled into the students of Fontbonne Academy, and she challenged them to allow the four Rs to guide them throughout their lives.
Graduate Amanda Nagim-Williams of Boston received the prestigious Fontbonne Woman Award for most embodying the values of Fontbonne Academy. After the ceremony, the Class of 2012 exited the tent to the circle in front of the school for the annual cap throwing, formally signifying the end of their high school years.
Milton resident Alyssa Melendez, was also awarded the Unsung Hero Award at the Baccalaureate Award ceremony. This award is given to an athlete who work tirelessly behind the scenes, and who give 100% of themselves to their team and teammates. They are the cornerstone of the Fontbonne athletic program.