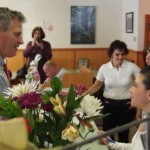 Yesterday was not just any day at Stella's the popular lunch spot in East Milton. Senator Scott Brown happened to be in town and he was hungry. The senator stopped in for a bite and chatted with diners.
Asked about the chief lesson learned from his first term in office Brown said, "To be independent. . . I am not an ideologue." He mentioned two bills President was signing are bills he worked on.  (We believe he was referring the The Jobs Act and the Stock Act).
The senator is locked in a tight race with Elizabeth Warren who is challenging him for his seat. Ms. Warren was also in the area recently. She toured the Lower Mills area over the week-end.
Brown appeared to enjoy his lunch and the patrons of Stella's clearly enjoyed having him there.
[flagallery gid=10 name=Gallery]